In today's fast-paced world, space has become a precious commodity. Whether you're living in a tiny apartment, a cozy cottage, or simply want to maximize the functionality of a room, Murphy beds have been a classic solution for space-saving. However, as technology and design evolve, so do the alternatives to traditional Murphy beds.
In this article, we'll explore 15 innovative Murphy bed alternatives that not only save space but also add a touch of creativity and functionality to your living spaces.
1. Wall-Mounted Desks with Hidden Beds
Combining the functionality of a workspace and a bed, wall-mounted desks with hidden beds are ideal for home offices or multi-purpose rooms. During the day, the desk can be used for work or study, and at night, it effortlessly transforms into a comfortable bed.
2. Sofa Beds with a Twist
Sofa beds have come a long way from their clunky predecessors. Modern designs incorporate sleek lines and comfortable mattresses, ensuring a restful night's sleep. Some even feature innovative mechanisms that allow for easy transformation without removing cushions.
3. Loft Beds with Storage
For those with high ceilings, loft beds are a fantastic option. They create additional space beneath the bed, which can be used for storage, a cozy reading nook, or a home office setup.
4. Folding Bunk Beds
Perfect for kids' rooms or guest bedrooms, folding bunk beds provide the convenience of extra sleeping space without sacrificing floor space. During the day, they can be folded up to create more room to play or work.
5. Trundle Beds with Style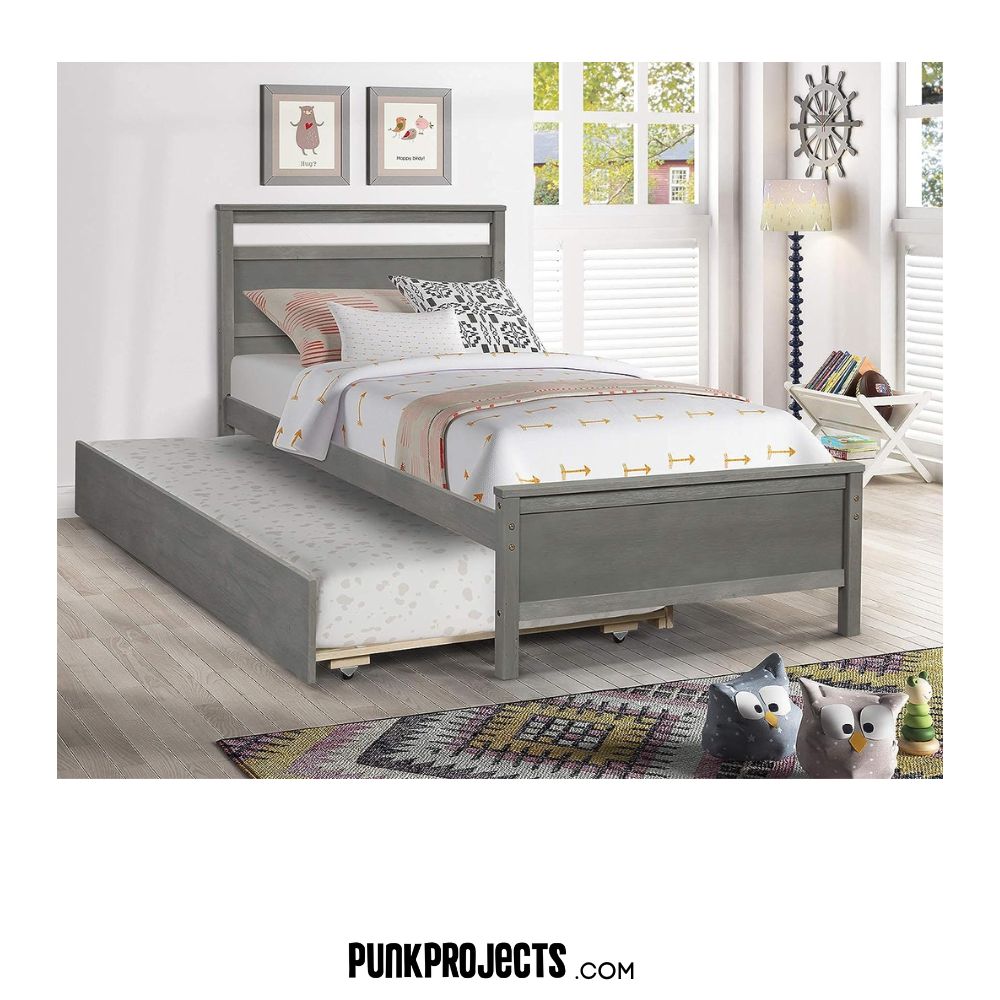 Trundle beds are a timeless space-saving solution, but modern designs offer elegance and comfort. Some trundle beds come with pop-up mechanisms that raise the second mattress to the same height as the main one, creating a seamless sleeping experience.
6. Modular Furniture Systems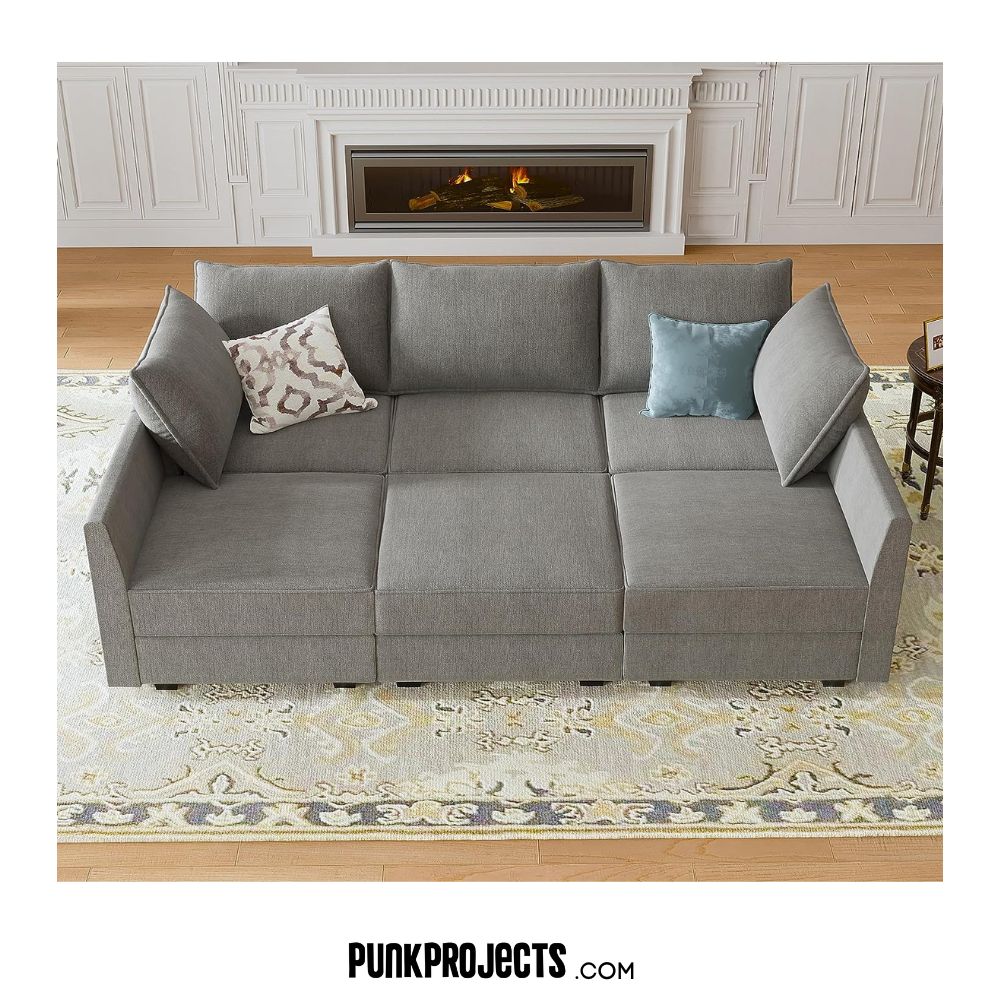 Modular furniture systems offer flexibility in arranging your living space. They can be customized to include hidden beds, transforming your living room into a comfortable bedroom at night while maintaining a chic appearance during the day.
7. Bookcase Wall Beds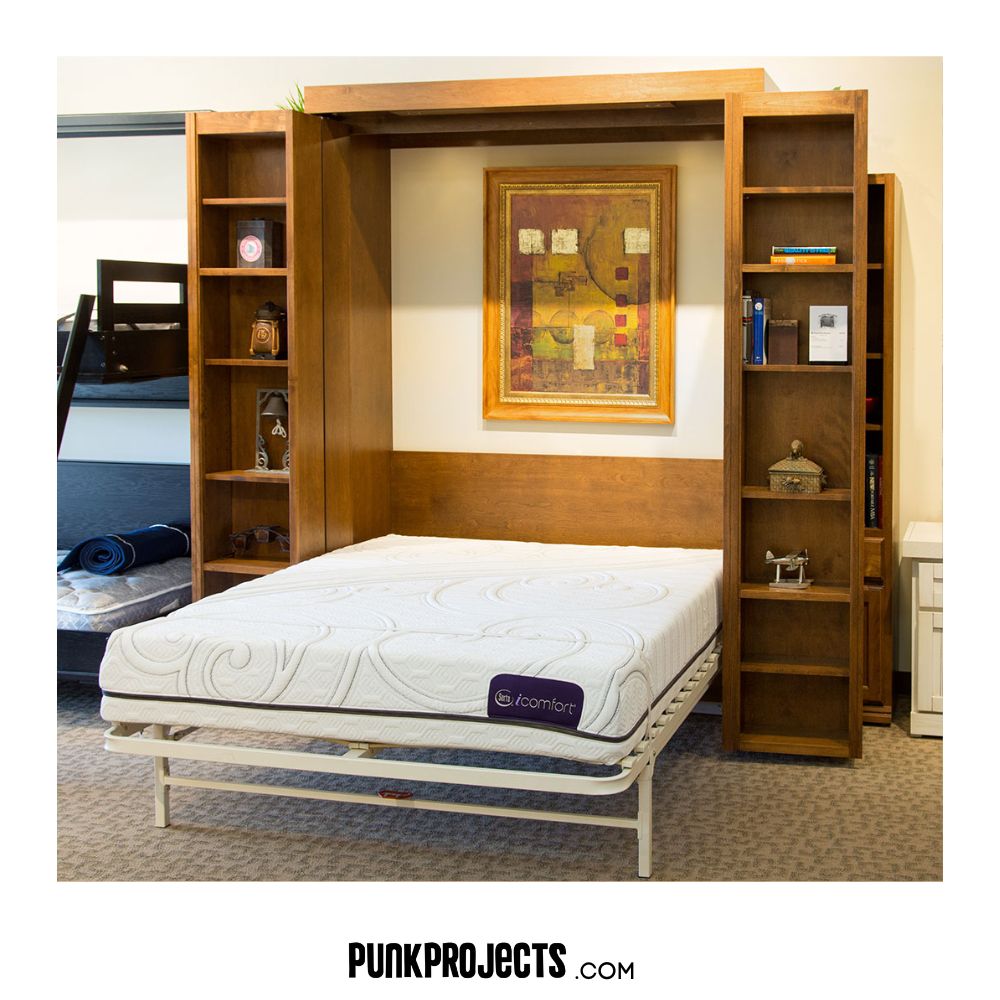 Bookcase wall beds blend seamlessly with your room's decor. They provide a hidden sleeping area behind a bookcase, which can be filled with your favorite books, decorative items, or even a mini home library.
8. Murphy Beds with Built-In Couches
Innovative Murphy bed designs often incorporate built-in couches or sofas that can be folded away with the bed. This dual-purpose furniture saves both space and money, as you won't need a separate sofa.
9. Hidden Bed Cabinets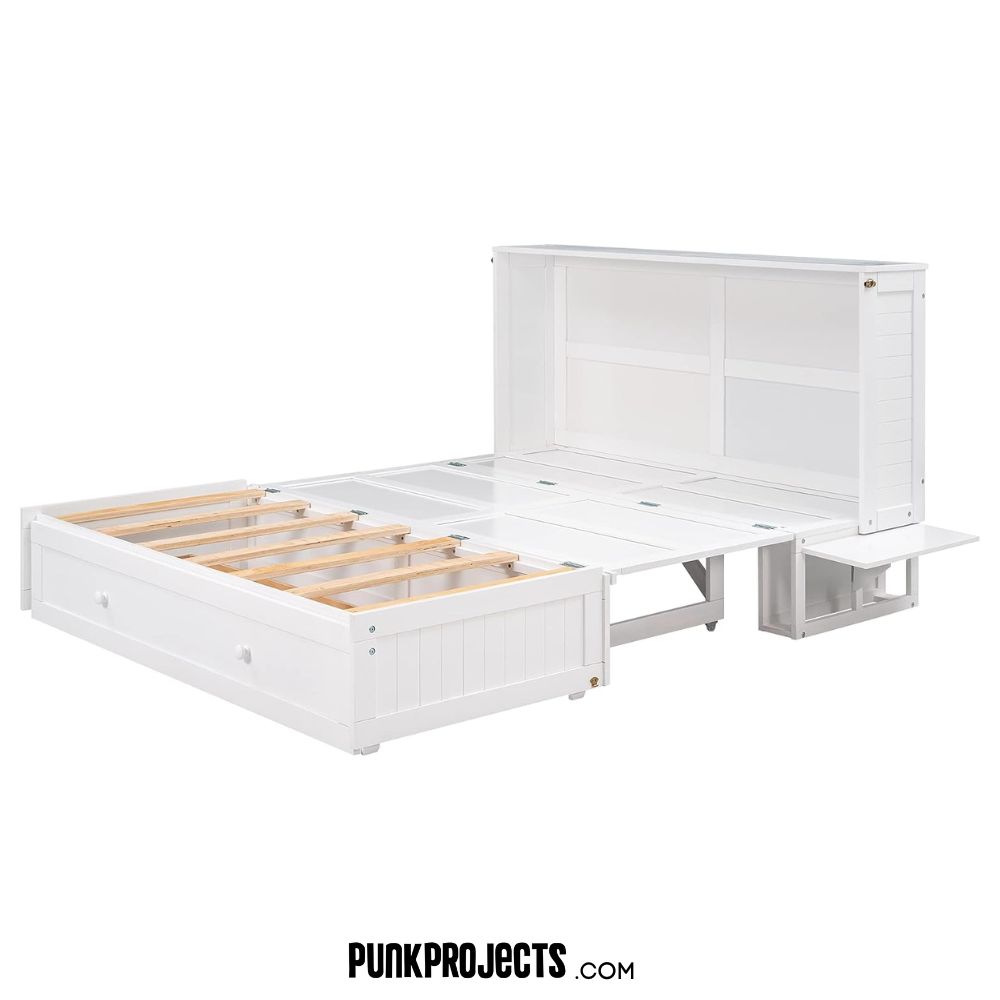 Hidden bed cabinets are stylish and discreet. When closed, they resemble a sleek cabinet or wardrobe, but when opened, they reveal a comfortable bed. This solution is perfect for studio apartments or guest rooms.
Read Also : 14 Bed Skirt Alternatives (Simple & Elegant)
10. Wall-Mounted Fold-Out Tables
Wall-mounted fold-out tables offer a practical solution for dining in small spaces. Some designs also include hidden beds, allowing you to transform your dining area into a bedroom effortlessly.
11. Platform Beds with Storage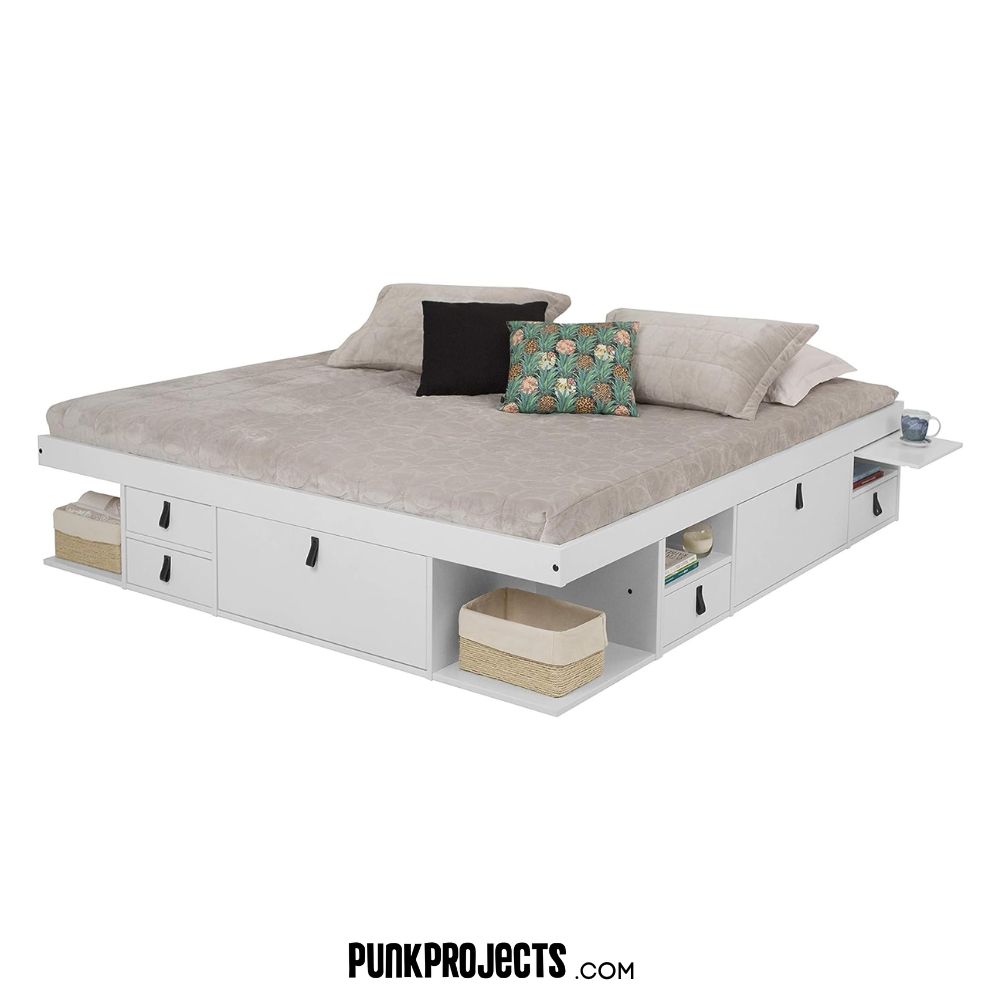 Platform beds with built-in storage drawers or shelves are an excellent choice for those who need to maximize their bedroom space. These beds provide ample storage for bedding, clothing, and other items.
12. Window Seat Beds
Utilize the space beneath your windows by installing window seat beds. These cozy nooks not only offer a comfortable place to relax during the day but also serve as an additional sleeping area at night.
13. Murphy Beds with Dining Tables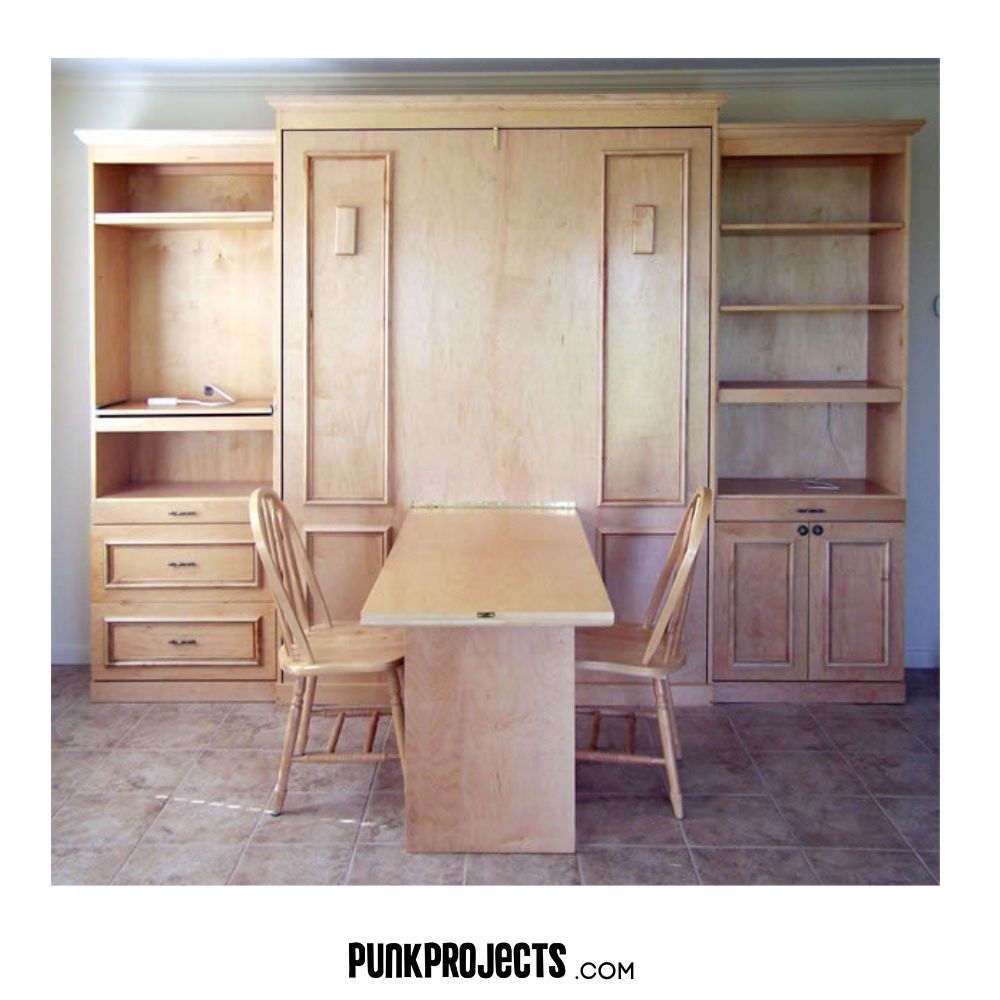 Combining a dining table with a Murphy bed is a clever way to optimize your dining room. You can enjoy meals with family and friends and, when needed, fold the table away to reveal a hidden bed.
14. Wall-Mounted Folding Pod Beds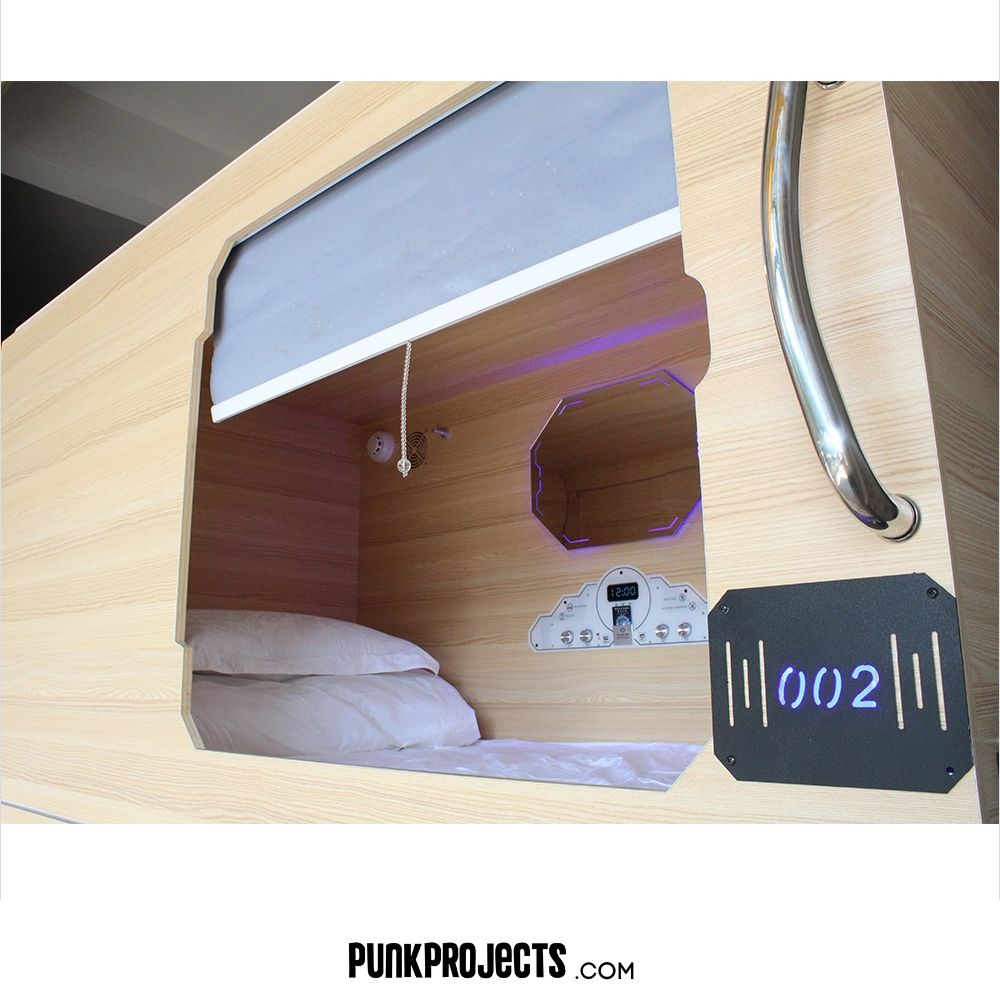 Futuristic wall-mounted folding pod beds provide a space-saving solution with a modern twist. They fold down from the wall, creating a cozy cocoon-like sleeping area, perfect for minimalist design enthusiasts.
15. Convertible Coffee Tables
Coffee tables with hidden bed mechanisms are a creative way to save space in your living room. These tables can be easily transformed into a comfortable sleeping surface when guests stay over.
Conclusion
In the quest for space-saving solutions, Murphy beds have inspired a world of innovation. From wall-mounted desks that become beds to coffee tables that hide cozy sleeping quarters, these 15 alternatives offer creative and functional ways to make the most of your living space. Whether you're in a compact apartment or simply want to maximize every inch of your home, these options provide comfort, style, and versatility while optimizing your space. So, take your pick and transform your living space into a functional and stylish haven.
Read Also : 10 Alternative to a Bed For Small Space
Frequency Ask Question of Murphy Bed Alternatives
What are Murphy bed alternatives?
Murphy bed alternatives refer to innovative space-saving furniture and designs that offer options other than traditional Murphy beds for optimizing living spaces.
What are Murphy bed alternatives?
Murphy bed alternatives refer to innovative space-saving furniture and designs that offer options other than traditional Murphy beds for optimizing living spaces.
Do Murphy bed alternatives require special installation or maintenance?
Installation and maintenance requirements can vary depending on the specific alternative. Some alternatives may need professional installation, while others can be set up by homeowners. Regular maintenance, such as checking for loose parts, is advisable for safety and functionality.
Are there Murphy bed alternatives suitable for small apartments?
Yes, many Murphy bed alternatives are designed with small spaces in mind. They can be an excellent choice for small apartments or studio units where space optimization is crucial.
What is the cost difference between traditional Murphy beds and Murphy bed alternatives?
The cost of Murphy bed alternatives can vary widely based on the design, materials, and features. Some alternatives may be more affordable than traditional Murphy beds, while others with advanced features may have a higher price tag. It's essential to consider your budget and specific needs when making a choice.
I am a multi-talented designer and contractor with over 10 years of experience in the field. I have a passion for creating beautiful, innovative spaces that reflect my clients' needs and styles. My skills include architectural design, interior design, space planning, project management and construction supervision.