Are you planning to paint a ceiling? Thinking of using semi gloss paint? Well, you're in the right place. You'll learn the benefits of using semi gloss paint on your ceiling and how to correctly apply it. You won't have to worry about any mess or hassle when it comes time to redecorate!
Semi Gloss Paint On Ceiling
Semi-gloss paint is a great choice for painting the ceiling of any room in your home. The sheen provides a subtle reflective quality that adds dimension to the room, setting the perfect tone for any decorating style. Semi-gloss paint on ceilings is especially beneficial in kitchens, bathrooms and bedrooms.
Another benefit of using semi-gloss paint on ceilings is that it hides imperfections very well. For instance, if there are cracks or holes in the ceiling due to settling or uneven textures left from previous paint jobs, semi-gloss will create a uniform finish that looks great and hides flaws better than flat paint would.
Best Semi Gloss Paint for Ceiling
Here are some of the top-rated semi-gloss paint brands in the US, according to consumer reviews and expert recommendations:
Benjamin Moore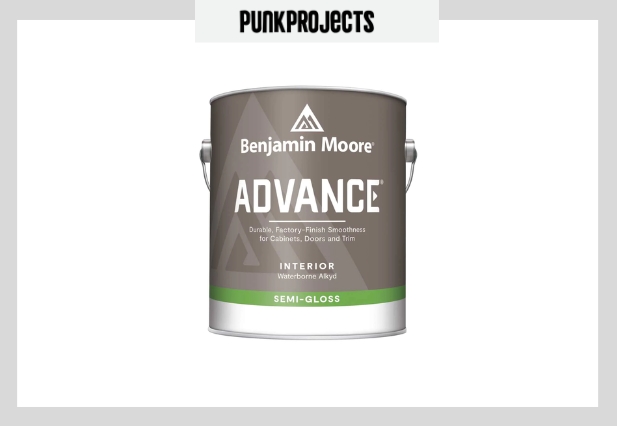 Benjamin Moore is a well-known and respected brand in the paint industry, offering a range of high-quality paints. Their Aura line of semi-gloss paints is highly rated for its durability, easy application, and low odor.
Sherwin-Williams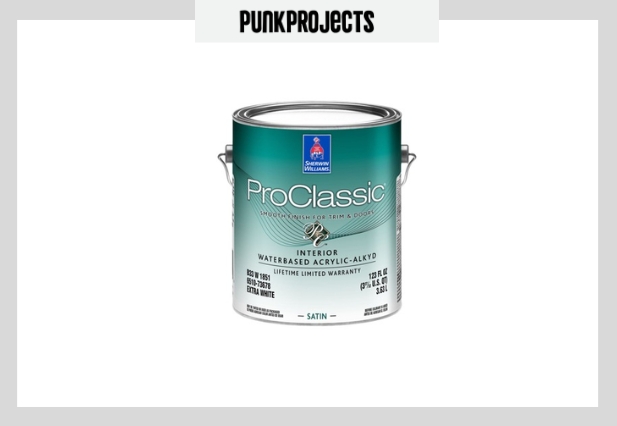 Sherwin-Williams is another well-known brand that offers a range of high-quality paints. Their ProClassic Interior Waterbased Acrylic-Alkyd line of semi-gloss paints is highly rated for its smooth finish, durability, and easy cleaning.
Behr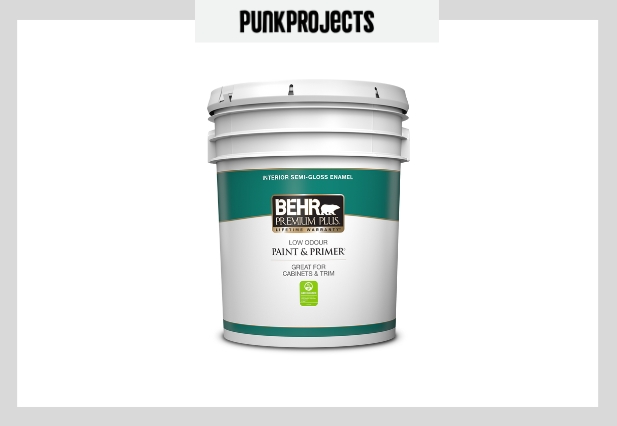 Behr is a popular brand available at Home Depot stores, and their Marquee line of semi-gloss paints is highly rated for its excellent coverage, stain resistance, and durability.
Valspar
Valspar is another popular brand available at Lowe's stores, and their Ultra line of semi-gloss paints is highly rated for its easy application, quick drying time, and durability.
PPG Paints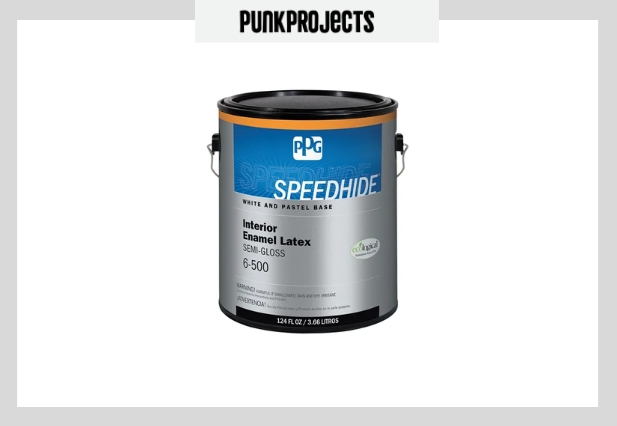 PPG Paints offers a range of high-quality paints, and their Manor Hall line of semi-gloss paints is highly rated for its durability, washability, and fade resistance.
Buy Best Semi Gloss Paint on Amazon
Flat or Semi Gloss For Ceiling
When selecting paint for your ceiling, it is important to balance the needs of the space with aesthetic considerations. Generally, a flat finish should be used unless you are looking to achieve a specific look or effect.
Flat finishes are less likely to reflect light, so they can help hide surface imperfections while providing an even color across the entire ceiling. Semi-gloss finishes, on the other hand, create an almost glass-like reflective effect that can illuminate a room and make it appear larger. These paint finishes are also much more durable and easier to clean than flat finishes.
Ceiling White Semi Gloss
Ceiling white semi gloss is a versatile product with many uses. It is an extremely durable paint option that can be used to create a bright, clean finish suitable for high-traffic areas such as hallways, bathrooms and other areas subject to moisture.
Semi gloss also offers superior cleaning qualities so that you can easily erase any mess without compromising the integrity of the finish. Ceiling white semi gloss also looks great in larger rooms due to its ability to reflect light, creating an open and inviting atmosphere.
Semi Gloss Ceiling Paint Bathroom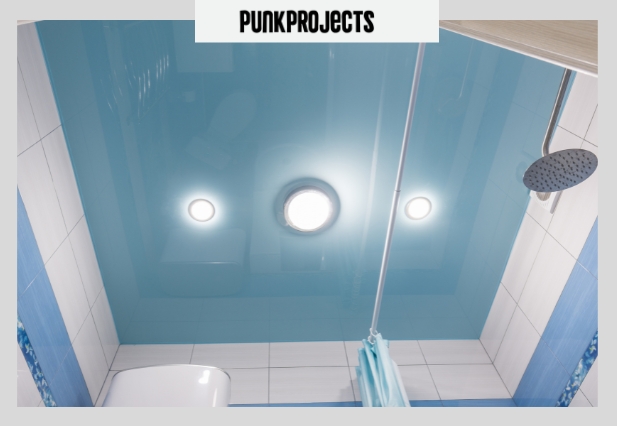 Semi-gloss ceiling paint is commonly chosen for bathrooms as it provides a washable, low-sheen finish that can hide imperfections. The durable finish of semi-gloss paint deters moisture and mildew growth, making it an ideal choice for high humidity areas like the bathroom. Many semi-gloss paints are also labeled "washable," meaning they can handle scrubbing and light cleaning without losing their color or sheen.
Satin Paint For Walls and Ceilings
Satin paint is one of the most versatile paints available and can be used on both walls and ceilings. It is a type of semi-gloss paint that will give your room a light, clean finish while providing added durability. The slight sheen it provides allows any imperfections to be less noticeable, making it an excellent choice for walls and ceilings in high traffic areas.
Satin paint is quite easy to clean given its semi-gloss coating, so frequent wiping down of walls and ceilings when exposed to dust, dirt, or accidental spills may not be necessary. Additionally, due to its lack of shine compared to glossier paints and the fact that it is washable, it can also act as a stain concealing formula if desired.
Eggshell Ceiling Paint
Eggshell ceiling paint is often used in rooms with high humidity or where food preparation or other activities are taking place; it is also ideal for areas where you don't want to create too much glare. When compared to flat sheens,eggshell finishes show imperfections and dirt less easily, making them low-maintenance and attractive options for ceilings throughout the home.
The sheen of eggshell paint makes it relatively easy to clean and maintain, although regular dusting and cleaning will still be necessary for long-term appearance retention.
Flat or Semi Gloss For Bathroom Ceiling
Flat paint on ceilings absorbs more light, helping to reduce this glare problem. Flat also helps hide unsightly imperfections such as nicks and stains that accumulate over time. The drawback with flat is that it does not hold up as well in bathrooms with high humidity levels like those caused by frequent showers or hot tub use.
Semi-gloss provides more durability than flat due to its higher resin content; however it can still produce aggravating glare when used on bathroom ceilings. If you are concerned with the amount of shine or glare produced while using semi-gloss on your bathroom ceiling you may want to choose an eggshell finish which is slightly less shiny than semi-gloss but still offers good durability qualities while being much easier to clean than either flat or matte finishes.
Bathroom Ceiling Paint
Paint choice is an important factor to consider when deciding how to update the look of your bathroom ceiling. Semi-gloss paint is a popular option due to its ability to withstand moisture, which is common in the bathroom environment. This type of paint can provide a glossy sheen, while maintaining a subtle finish. It reflects light well and offers greater durability than flat or matte paint types, making it a great choice for bathroom ceilings.
How To Paint A Ceiling With Semi-Gloss
Preparing the space is key before you begin painting. First, remove any furniture or fabrics from the area you plan to paint. Make sure that all of the surfaces are clean and free from dirt, dust, and debris before you apply any type of finish or paint. Next, cover any exposed electrical wires with plastic coating and patch any holes or cracks in the ceiling with spackling compound. Finally, sand down any imperfections on your surface with fine-grit sandpaper. When finished sanding make sure to dust off all of your surfaces before applying your primer and semi-gloss paint.
Your primer should always be oil based in order to ensure that your semi gloss finish adheres properly without bubbling or cracking over time – this will help create a long lasting finish when done correctly! After applying a single coat of oil based primer allow 12 hours for this layer of protection to dry completely before continuing on in the painting project.
DIY painting is becoming increasingly popular, thanks to the abundance of information available online and in hardware stores. However, painting a ceiling requires skill and experience that most people lack.
A professional painter in USA has the necessary tools and expertise to ensure that your ceiling looks flawless without any streaks or drips. Furthermore, they have access to high-quality paints and materials that will result in a longer-lasting finish compared with DIY projects.
4 Alternatives To Semi-Gloss Painting
As such, there are many alternative options available for painting ceilings.
Flat: Flat paint is the least reflective option that reduces glare on ceilings from light fixtures or lighting from outside sources.
Eggshell: Eggshell paint has a slightly lower sheen than semi-gloss and is better suited for walls because it won't pick up dust easily like flat paints do.
Satin: Satin finish is more durable than flat or eggshell finishes and creates an attractive soft sheen that reflects some light while not being too glossy.
Matte: Matte finishes are good choices if you want an ultra-matte look with minimal reflectivity on your walls or ceilings.
Frequency Ask Question
When Should You Use Semi-Gloss On A Ceiling?
If you have a high-traffic area such as a hallway or entryway, semi-gloss can provide added durability and make cleaning easier. Its reflective properties also help to brighten up darker spaces.
Additionally, if you live in an area with high humidity levels or moisture-prone rooms like bathrooms or kitchens, semi-gloss can resist mildew growth and withstand exposure to water better than flat paint finishes.
When Should You Not Use Semi-Gloss On A Ceiling?
Although semi-gloss paint is the preferred finish for walls, ceilings, and trim work, there are some cases when it should not be used on a ceiling. As semi-gloss has a higher sheen level than other finishes, it can be more reflective and show any imperfections in the surface of the ceiling.
If your ceiling is textured or has an uneven surface, semi-gloss can highlight these blemishes. In addition to potential appearance issues, using semi-gloss on a ceiling can make any dust or dirt that accumulates more visible.
For ceilings with a relatively smooth and pristine surface, however, semi-gloss is still an excellent choice as it provides excellent durability and wipeability over time.
I am a multi-talented designer and contractor with over 10 years of experience in the field. I have a passion for creating beautiful, innovative spaces that reflect my clients' needs and styles. My skills include architectural design, interior design, space planning, project management and construction supervision.