Ceiling tiles are a great way to add texture and style to your home, but there are many other alternative to ceiling tiles. From tiles made out of natural materials to even 3D printing options, the possibilities for creative ceiling designs are endless.
With so much choice available, it can be difficult to know where to start. This article is here to help – we'll take you through 20 alternative solutions for your ceiling instead of traditional tiles.
What is Ceiling Tiles?
Ceiling tiles are a type of covering used to line the tops of interior walls. They are available in a variety of materials, styles, and sizes, providing a range of options for homeowners and designers.
Ceiling tiles provide more than just an aesthetic element; they can also be used to control sound, insulate against heat loss, and help reduce energy costs.
Ceiling tiles are made from a variety of materials including wood, metal, plastic and fiberglass. Different types offer different benefits such as noise reduction or insulation properties.
20 Alternative to Ceiling Tiles
Ceiling tiles are a popular choice for many homeowners looking to finish their ceilings. However, there are other alternatives that can provide the same look and feel of ceiling tiles without sacrificing quality or style.
From natural wood to metal accents, here are 20 alternative options that can help you achieve the perfect ceiling design without having to use traditional ceiling tiles.
PVC Ceiling (Popular)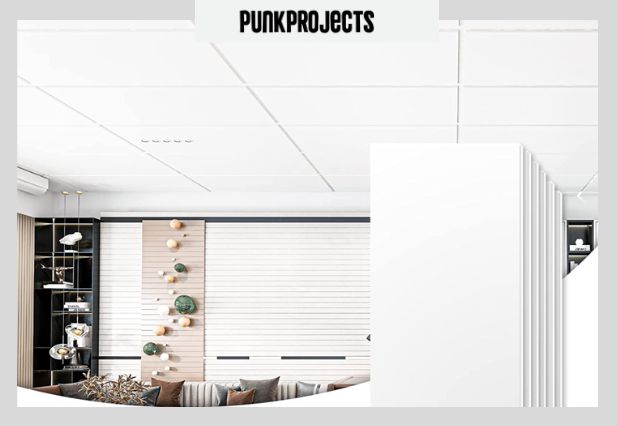 PVC Ceiling is an innovative and cost-effective alternative to traditional ceiling tiles. It has a range of features and benefits which make it an ideal choice for many commercial and residential projects.
The material, PVC (Poly Vinyl Chloride) is strong and durable yet lightweight, making it easier to install than other building materials such as drywall or plasterboard. The panels are also moisture-resistant, meaning they won't warp or swell when exposed to water. This makes them ideal for areas where condensation can be an issue such as bathrooms, kitchens, basements and attics.
PVC Ceiling also comes in a variety of colors and finishes so you can create the exact look you want for your space.
PVC Stretch Ceilings (alternative to drop ceiling in basement)
PVC Stretch Ceilings are quickly becoming the go-to ceiling solution for many homeowners and business owners. This alternative to traditional ceiling tiles offers a number of benefits that make it an attractive choice.
It is low maintenance, cost-effective, and visually pleasing – three qualities that can't be ignored. PVC stretch ceilings are made with a variety of materials including vinyl, cloth, and fiberglass which makes them incredibly durable and long lasting.
Drop Ceiling (modern drop ceiling)
Drop ceilings are an excellent alternative to traditional ceiling tiles, offering a range of features and benefits that make them ideal for any room in the home or office. Drop ceilings create an air space between the ceiling surface and the underside of the roof structure.
This space can be used to hide wires, ducts, and other utilities while also providing soundproofing characteristics. Not only do drop ceilings offer great soundproofing capabilities but they also provide easy access to wiring, pipes, and other mechanical systems located in the ceiling area without disturbing existing surfaces.
Plaster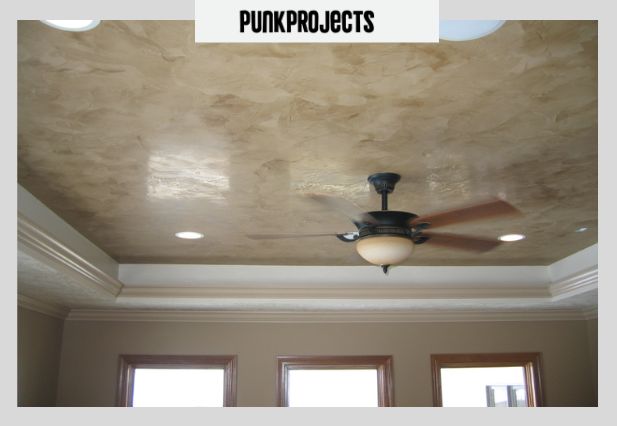 Plaster is one of the most classic and timeless materials when it comes to interior design. For centuries, plaster has been used to create a smooth and seamless ceiling that also has fire-resistant properties. With its versatility, plaster ceilings can be painted or decorated in various ways to suit any style or room layout.
If you're looking for a material that won't restrict your creative options while offering durable performance, consider using plaster on your next project's ceiling.
Drywall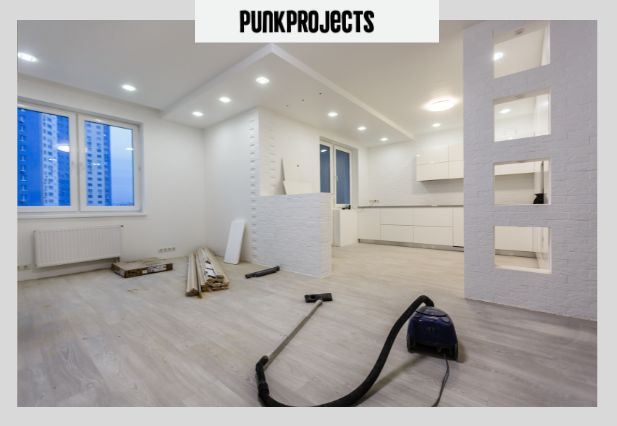 Drywall ceilings are a great way to add a finished look to any room in the house, while also providing extra insulation and soundproofing. With its durability, low cost and easy installation, many people choose to install a drywall ceiling on their own or hire a professional.
Whether you decide to go with a basic white finish or something more decorative such as textured panels, there are several options available when it comes to choosing the right type of drywall ceiling for your space. Drywall ceilings can be painted in any color of choice and come pre-finished in various textures such as smooth, popcorn or knockdown texture styles.
Metal Panels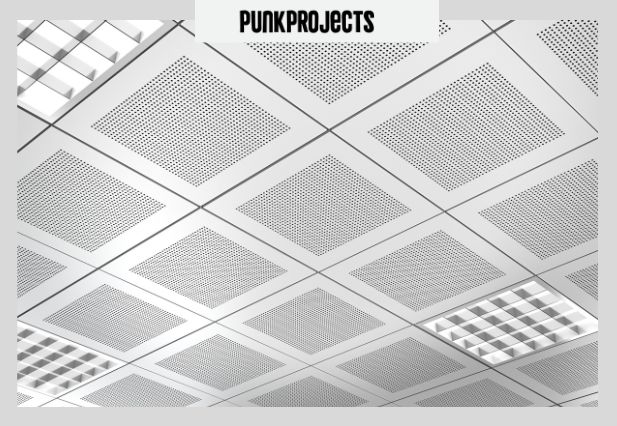 Metal panels are available in a variety of metals such as steel, aluminum and copper. They can be used to create an eye-catching ceiling that is both modern and timeless. Metal panels also offer great flexibility when it comes to design; they can be used in both traditional and contemporary settings.
Metal panels are also very easy to install as they come with pre-drilled holes which makes them easy to attach directly onto the existing ceiling joists or rafters.
Metal paneling is highly weather-resistant making it ideal for outdoor applications such as carports or outdoor patios. Metal panel ceilings are highly durable making them ideal for long term use without having to worry about maintenance costs or repairs over time.
Paint (Classic)
If you're looking for a cost-effective way to update the look and feel of your room, painting your ceiling is one of the easiest solutions. Smooth ceilings provide an ideal surface for painting and can help bring life to any space in no time. Painting your ceiling with a vibrant shade or subtle pastel can give a new energy to the entire room.
Whether it's one wall in a small area or all four walls of a larger room, painting is an easy way to add depth and interest. The color you choose will depend on the size of the space; lighter colors make rooms appear larger while dark colors are best suited for smaller areas. You can also create patterns with stencils, stripes or other designs that will make your space stand out from the rest.
Beadboard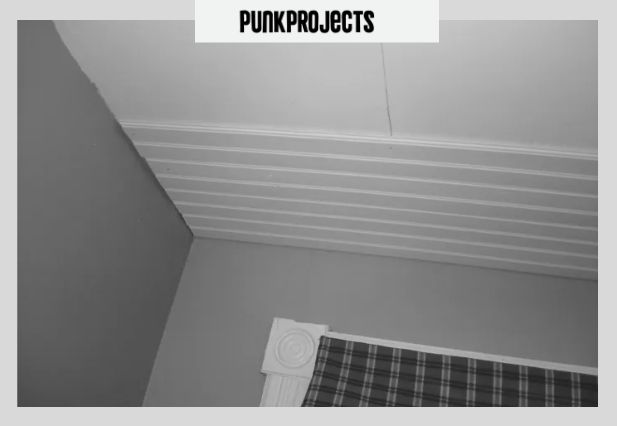 Beadboard is a type of paneling that has been used to decorate interiors for centuries. It is comprised of narrow strips of wood installed vertically with a slight gap between them. Many people choose to install beadboard on their ceilings as an attractive and inexpensive way to give their home a facelift.
Beadboard ceiling panels are easy to install, making it an ideal choice for DIYers who want the look of classic wainscoting without the time investment or expense associated with traditional board-and-batten designs. Beadboard can be painted or stained in any color, allowing you to customize the look of your room and create a unique visual statement.
Fabric (Unique)
Fabric can be an effective and stylish way to add texture, color, and comfort to any room in the home. Installing it directly onto the ceiling is one of the easiest ways of achieving this aesthetic, requiring no extra work aside from stretching it over a lightweight frame. This installation provides a soft look that adds warmth and personality to any space.
This option is perfect for anyone looking to create a more inviting atmosphere in their bedroom or living room. The flow of fabric along the wall can help draw attention away from electrical wiring or other imperfections on the walls or ceiling, making it a great choice for anyone looking to hide minor flaws in their home's decor.
Wooden Planks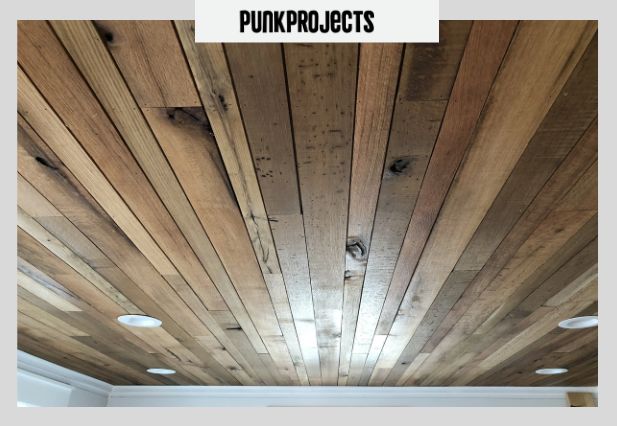 Installing wood planks on the ceiling is becoming increasingly popular, as it provides an inviting atmosphere with a hint of texture and character. Whether you prefer a natural wood finish or stained and painted boards, there are plenty of options available to suit any style.
Wooden planks come in a variety of sizes, from long lengths that run from wall-to-wall, to smaller boards that create a unique pattern when installed. They can even be mixed with other materials such as tile or metal trim for an extra creative touch.
With so much choice available, wooden planks can easily transform any room into something special. Not only that but they will also provide structural stability and insulation benefits too!
Corkboard Ceiling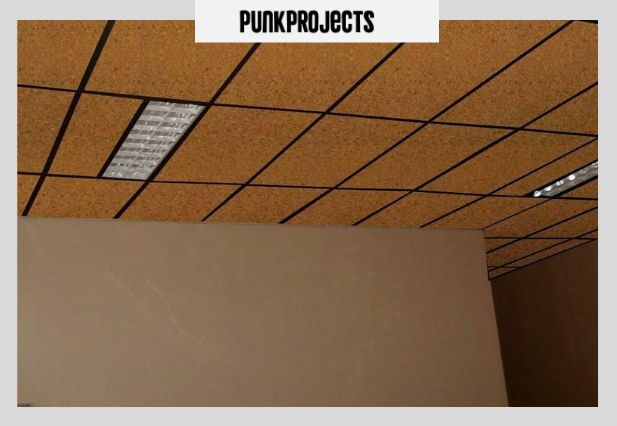 Cork ceiling tiles are an excellent choice for sound insulation due to their natural cork material. Not only do they provide a great acoustic barrier, but they also come in a variety of colors and textures that can be used to create unique designs on your ceiling.
When it comes to sound absorption, cork ceiling tiles outperform other materials such as drywall or rock wool because they are able to absorb more sound energy. This makes them ideal for home theaters, recording studios or any space where you want the highest level of noise reduction possible.
Plywood
Plywood ceilings offer a great way for homeowners and builders to quickly and easily modernize any living space. Plywood is incredibly versatile, allowing it to be stained or painted to match your existing décor.
It's also long-lasting, making it an ideal choice for rooms that typically see a lot of wear and tear such as kitchens, bathrooms and kids' bedrooms. Whether you're looking to cover up an old ceiling or start from scratch with a brand new installation, plywood ceilings are an excellent option.
Installing a plywood ceiling is surprisingly simple – all you need is some lumber, screws and adhesive. You'll want to measure the area before purchasing the wood so that you can make sure you get enough material for the project.
Stained Glass Ceilings
The concept of stained glass ceilings are becoming increasingly prevalent in modern society. This term is used to describe the invisible barriers that exist within many industries, preventing people from achieving their full potential because of their gender, ethnicity or other characteristics.
A stained glass ceiling can be found in almost any industry or field where there is an imbalance between genders or ethnicities in terms of leadership positions.
This situation can often be attributed to systemic discrimination and bias that has been built up over time, making it difficult for those who do not fit into a certain mold to access opportunities they otherwise may have deserved.
Faux Wooden Beams
Faux wooden beams ceilings are a great way to add character and style to any space. Made from polyurethane foam, these beams look just like real wood without the expense or hassle of finding authentic pieces.
Faux wooden beams ceilings can be used in residential and commercial properties alike and come in a variety of styles to fit any decorating scheme. With a variety of sizes, colors, and textures available, faux wooden beams are an attractive option for creating architectural appeal with minimal effort.
These lightweight beams are easy to install as they don't require extensive labor or construction knowledge. They also offer flexibility for changing your design preferences as you can easily move them around or replace them should you decide on another look down the road.
Hanging Wood (Inovative)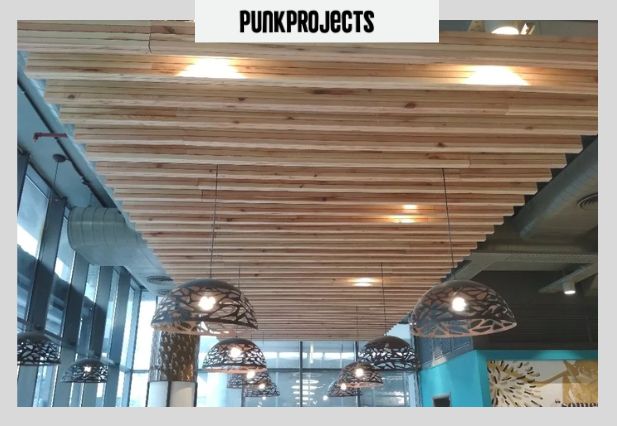 Hanging a wood ceiling is an excellent way to bring warmth, texture and a stunning aesthetic to any room. This popular design trend is the perfect choice for giving an old space a sense of newness or adding character to a newly built home.
Whether you're looking for something rustic and classic or contemporary, there are several types of wood ceiling designs available today. A wood Ceiling adds visual interest to almost any room in your home, as it can be designed in many different shapes and styles.
Acoustic Tiles
Acoustic tiles ceilings are an excellent way to reduce noise levels in any room. These tiles can absorb sound and create a pleasant, quiet atmosphere for everyone's comfort.
While acoustic tile ceilings have been around for some time, modern advancements in technology have made them even more effective at dampening sound. Installing acoustic tiles is a great way to upgrade your home or office space as they come in various colors, shapes and sizes to fit any decor you may want.
Styrofoam Ceiling Tiles (Cheap)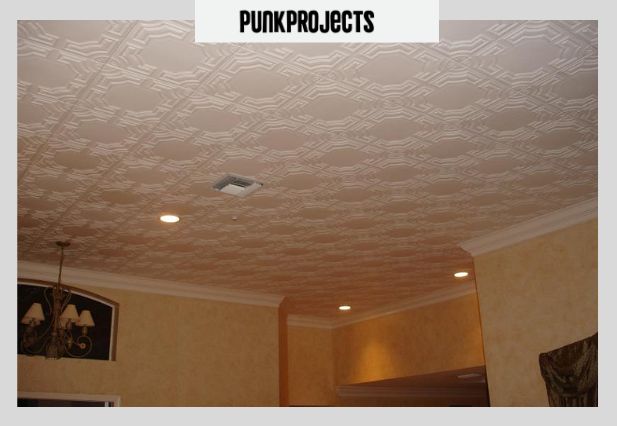 Styrofoam ceiling tiles are becoming increasingly popular for many homeowners looking to update the look and feel of their homes. These lightweight, easy-to-install tiles can be used in any room of the house, from kitchens and bathrooms to bedrooms and living rooms.
Styrofoam ceiling tiles are an attractive option because they come in a variety of colors, textures, and styles to fit any décor. They also offer superior soundproofing capabilities that help reduce noise levels while adding a touch of elegance.
These highly affordable ceiling tiles are made from a polystyrene foam material that is extremely durable, making them ideal for busy households with children or pets. They're easy to clean too — all you need is a damp cloth or vacuum cleaner attachment to get rid of dirt or dust buildup.
Tin Ceiling
Today, tin ceilings are a popular choice among homeowners who want to add an elegant, traditional look to their home. Tin ceilings have been around since the 1800s and provide a unique look that no other ceiling can replicate. A tin ceiling is defined as any type of decorative metal or plastic paneling used to construct a suspended ceiling.
These panels can be made from a variety of materials such as copper, brass, zinc, aluminum and even steel. Tin ceilings come in many different shapes, sizes and colors allowing you to create the perfect design for your space. The panels also provide superior acoustic insulation making them ideal for both residential and commercial applications where soundproofing is desired.
Wallpaper Ceiling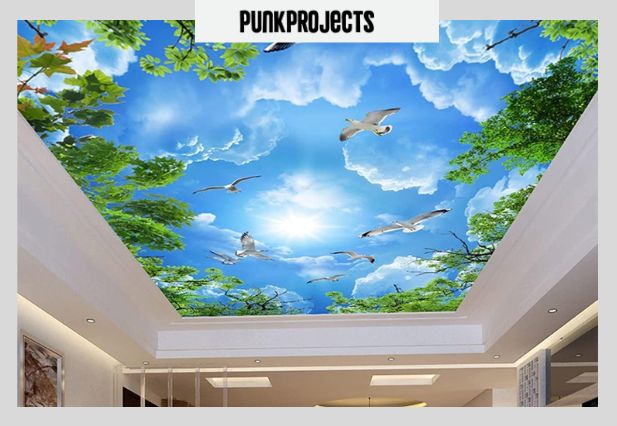 Wallpaper Ceiling is an innovative and cost-efficient way to give any room a beautiful makeover. Whether you are trying to upgrade your home décor, or just add a personal touch to your office space, wallpaper ceiling is the perfect solution. With wallpaper ceiling, you can create a stunning look that will last for years and won't break the bank.
Wallpaper ceiling is a great option not just because of its affordability but also because of its versatility and ease of installation. It comes in so many different styles and colors that it can be used in nearly any room.
You can choose from classic designs such as stripes, floral patterns, or geometric shapes; more contemporary and modern looks such as metallics or abstract art; or even completely custom designs.
3D Wall Panels
3D Wall Panels are a unique and innovative way to add style and personality to any space. These panels offer an eye-catching 3D effect that will elevate the look of any wall in your home or business. Not only do they look great, but they also provide sound insulation, fire protection, and thermal insulation making them a perfect choice for both commercial and residential applications.
3D Wall Panels come in a variety of styles, textures, colors, and designs that can be used to create stunning visual effects.
Whether you are looking for modern minimalism or something more rustic and traditional, these panels can be mixed and matched to best suit your design needs. Additionally, these panels are simple to install as most types simply require using adhesive or screws – no professional help needed!
Industrial Ceiling Design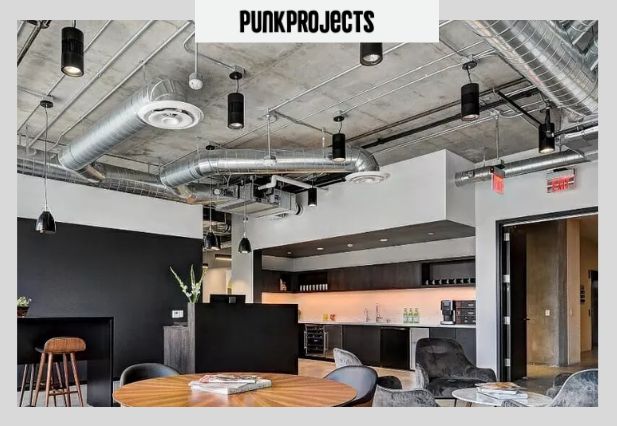 Industrial Ceiling Design can take many forms, from exposed brick, wood beams and metal pipes to sleek contemporary ceilings featuring light and airy materials. The result is a space that looks both stylish and inviting while still incorporating the structural integrity and quality of classic industrial design.
By using a variety of textures, colors and shapes in an Industrial Ceiling Design scheme, you can create an environment that encourages creative thinking and productivity. From bold geometric patterns to organic curves, the possibilities for creating unique ceiling designs are endless.
Frequency Ask Question
Are PVC ceilings safe?
PVC ceilings are relatively safe as a ceiling material. PVC (polyvinyl chloride) is a synthetic plastic generally used in construction materials, including pipes, flooring, and ceiling panels.
Do ceiling tiles absorb water?
Ceiling tiles can absorb water if they are made from a porous material like mineral fiber or cellulose. When exposed to water, these materials can swell and lose their structural integrity, resulting in water damage and potential mold growth.
Why do ceiling tiles crack?
Ceiling tiles can crack for several reasons, including:
Age: Over time, ceiling tiles can become brittle and prone to cracking due to age and exposure to the environment.
Moisture: If the ceiling tiles are made from a porous material like mineral fiber or cellulose, exposure to moisture can cause them to swell and contract, leading to cracks or warping.
Movement: If the ceiling tiles are not securely installed or if the building experiences structural movement, such as settling or earthquakes, it can cause the tiles to crack.
Impact: Ceiling tiles can also crack if they are hit with a heavy object or if someone steps on them.
Improper installation: If the ceiling tiles are not installed properly, such as being overlapped or not properly secured, it can lead to stress points that can cause cracking over time.
Thermal expansion and contraction: If the tiles are made from materials that expand and contract with temperature changes, such as metal or plastic tiles, it can cause them to crack if they are not designed to handle the amount of movement.
I am a multi-talented designer and contractor with over 10 years of experience in the field. I have a passion for creating beautiful, innovative spaces that reflect my clients' needs and styles. My skills include architectural design, interior design, space planning, project management and construction supervision.